Rockabilly Festival - Afterparty 2014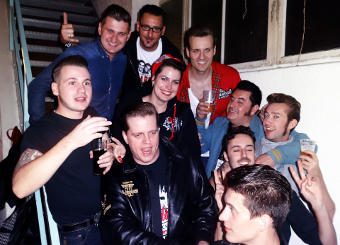 "Wir haben's geschafft!





Erster Platz beim Rumble59 "Battle of the Bands"
Vielen Dank für jede Stimme, die ihr uns gegeben habt.

Ihr habt es möglich gemacht!"
New Album "Still Kickin" is out now...

Das neue Album "Still Kickin" mit 13 heißen Songs davon
2 deutschsprachige und 10 Eigenkomositionen...is out now!
Aufgenommen wurde das neue Album in den Black Shack Studios in Calw.
Es ist das dritte Album nach "First Kick" by Cherokee Records und "Road from hell" das wieder unter TCY veröffentlicht wird.
Eine kleine Sommertour in Italien ist geplant und eine CD mit dem legendären Wild Bob Burgos (Ex-Matchbox) aus England steht ebenfalls noch für 2013 an.

Lest den.. "Die Psychocouch" Artikel über das neue Album!
Click here!


The Pinstripes - langjährige Freundschaft und diverse gemeinsame musikalische Projekte in der Vergangenheit schweißen dieses Band-Trio seit Ende 2001 zusammen. Ihr spezieller Sound ist auf eine über 20 jährige musikalische Bühnenerfahrung und die dadurch gesammelten verschiedenen Stile zurückzuführen.
Stilrichtung: Kick-Ass Rockabilly

Im Programm der Band finden sich vermehrt eigene Kompositionen bis hin zu modernen Coverversionen wie z.B. Jimy Hendrix (Voodoo Chile), AC/DC (Whole lotta Rosie), Motorhead (Ace of Spades), Chris Rea (Road to hell) wieder, welche in ihrem eigenen "Kick-Ass Rockabilly-Style" dargebracht werden.
Durch zahlreiche Auftritte bei verschiedenen Festivals als auch in kleineren Szene-Clubs oder großen Open Air Veranstaltungen, erspielte sich diese Band eine regionale und überregionale Fangemeinde, welche bis hin in die Schweiz, Österreich, England, Tschechien und Norwegen reicht.

Auftritte mit internationalen Größen wie "Bill Haley´s Comets", "Billy Lee Riley", "Gary Moore", "Roger Chapman", "Deep Purple" etc. konnten die Pinstripes bereits verbuchen. Veranstaltungen in Europa stehen jedes Jahr erneut auf ihrem Tourplan.

Diese Band überzeugt nicht nur durch ihr musikalisches Können, sondern auch durch ihre abwechslungsreiche und schweißtreibende Bühnenshow - they keep Rock´n Roll alive!

Spike: Guitar / Lead vocals
Tom: Slap bass / Backing vocals
Hagen: Drums / Backing and lead vocals


T-Shirts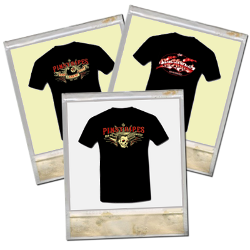 Shirts erhältlich auf unseren Konzerten.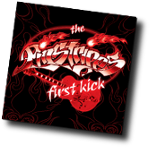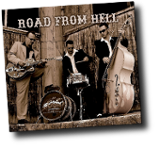 The new CD "still kickin" is out now!!!


CD´s erhältlich auf unseren Konzerten oder im web.

book us here...

Gigs 2015
TERMINÄNDERUNG --> 10.01. Karlsruhe (D)
- Rockabilly Night @ Ballroom '54 -
Delawarestr.21
76149 Karlsruhe
with The Pinstripes, The Hot Rolls & The Reindeers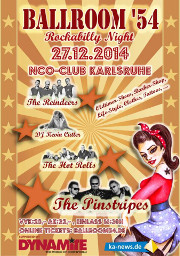 17. Januar Stuttgart (D)
- SBF Triumph Shopparty -
Triumph Stuttgart
Echterdingerstr. 57
70794 Filderstadt
with The Pinstripes, Einlass 19Uhr Eintritt frei

06.März Ludwigsburg (D)
- The Pinstripes & Boppin`B -
Four Runnerclub
Heckenwiesen 14
71634 Ludwigsburg
with The Pinstripes & Boppin`B

25.April Donaueschingen (D)
- 10. Rock´n´Roll City Jamboree -
Donaueschingen
with The Pinstripes

02.Mai Chlumec nad Cidlinou (CZ)
- Rusty Riots Vol. V -
Clubhouse Motobrouci V Americe
with The Pinstripes

09.Mai Stockholm (SE)
- Hot Rod Kustom Show -
with The Pinstripes
more information here
15.Mai Insel Juist (D)
- 16. Juister-Musikfestival -
D-26571 Insel Juist, Töwerland
with The Pinstripes

16.Mai Essen (D)
- 10 Years Celebration / Eintritt frei -
Red, hot & blue
Teklastr. 1
45130 Essen
with The Pinstripes, Furious (UK), The Go Getters (SWE)"

30.Mai Buchs (CH)
- Vespatreffen-Open Air -
Reflex-Bar, Bahnhofstr.35
CH - 9470 Buchs (St.Gallen)
with The Pinstripes

04.Juli Ried bei Vaihingen/Enz (D)
- Vaihinger Rock´n´Roll & Oldtimer Party Vol. 1 -
Zum Strudelbächle, Furtbergstr. 40/1
71665 Vaihingen/Ried
with The Pinstripes, The Mercy Rebels & DJ Alfredo Amore

12.Juni Großglockner (A)
- Großglockner Motorcycle Race -
Salzburg
9844 Heiligenblut am Großglockner
with The Pinstripes

11.Juli Mönchsdeggingen (D)
- 6. Werkstatt Sause -
Albstr. 2
D - 86751 Mönchsdeggingen
with The Pinstripes, Triumphators, Carrie Nation & the Speakeasy und DJ Franzbuster

01.August (CZ)
- Kaffeefahrt nach Tschechien -
with The Pinstripes
29.August Wiernsheim (D)
- Brauerei Adler -
D-75446 Wiernsheim
with The Pinstripes & The County Boys
12.September Siebnen (CH)
- Rockabilly Festival -
District 28
CH - 8854 Siebnen
with The Pinstripes
18.September Höpfigheim (D)
- Straßenfest - Kelter -
D - 71711 Höpfigheim
with The Pinstripes & the Railbones
26.September Waldhausen (D)
- Ostalm -
D - 73432 Waldhausen
with The Pinstripes
03.Oktober Finnland (FIN)
- HotRod Kustom Show -
with The Pinstripes
10.Oktober Ludwigsburg (D)
- Four Runners Club -
Heckenwiesen 14, 71634 Asperg
D - 71636 Ludwigsburg
with The Pinstripes, The Festers (CH), DJ Alfredo Amore
17.Oktober Prag (CZ)
- 10 years of Slapdash -
with The Pinstripes & Slapdash
24.Oktober Ludwigsburg (D)
- Privatveranstaltung -
with The Pinstripes
07.November Pforzheim (D)
- Goldener Adler -
with The Pinstripes
26. November Stuttgart (D)
- Rock around the Gloria -
Gloria Passage, Café Le Theatre
D - 70180 Stuttgart
with The Pinstripes
Gigs 2016
07. April Schweden (S)
- Rockabilly Cruise -
with The Pinstripes & Lee Rocker
01. Oktober Stuttgart (D)
- Rockabilly Festival REBELMANIA -

D - 70180 Stuttgart
with The Pinstripes